As kitchens more and more the central place in the home (just as it was for hundreds of years, before the television), they're taking on more vibrant, energetic colors.
The kitchen is absolutely a key place for color, says Leatrice Eiseman, executive director of the Pantone Color Institute, one of the premier color forecasters in the country. "It's the place where people gather, so it's apt to have some mixing and matching of colors to create high energy."
2012 Color of the Year: Tangerine Tango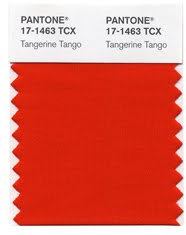 Since most appliances are basic black, white or silver, you need bursts of color on other places. "Most kitchens have minimal wall space, so it's a good place to splash some bold color and make a statement without overpowering the room," says designer Jamie Drake, author of New American Glamour, whose clients include Madonna and New York City Mayor Michael Bloomberg.
We're seeing bolder colors that complement stainless steel, as well as the darker cabinet colors that are in style,
explains Becky Ralich Spak, senior designer at Sherwin Williams. "Aztec clay colors " such as copper, henna and ginger as well as gold tones, are popular options." Continue reading →