I was recently in the market for a new hood. I was looking for something modern – stainless steel or glass or something like that – here's what I've found, the top ductless range hood for your modern home.
OM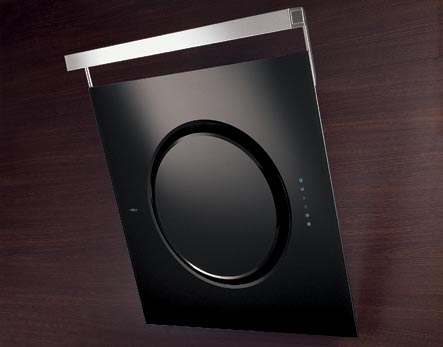 My current favorite is the OM from Italian company Elica. (they are sold in the US through Zephyr as far as I know) It easily might be the most fancy hood ever made with its striking glass surface and touch-controls. It's available in red, black and white and apparently has two types of remote controls.
The best part besides the looks is the remote control which does not have a button at all. just place the control on a flat surface – rotate clockwise to increase fan speed, counterclockwise to decrease. To control the lighting of the vent-hood, simply tap the remote control.
As for the parameters, it's 80 cm or 31.5″ wide and tall. However quite large (for my kitchen, anyway) it atcually saves space thanks to its almost vertical placement. Airflow is 450 cubic meters per hour.
The only drawback is that it's pretty expensive: expect to pay about $3990 in the US (about 800 pounds in the UK)