Did you ever wonder how some kitchens look like they belong on the pages of a glossy mag or in one of those lifestyle TV shows? Most of the times the simple reason is that they use lighting effectively. And that's about it. Kitchen lighting design is key.
Well planned lighting can turn even the most drab space into a chic interior, and similarly, poor lighting can completely ruin even the most stylish decor. So I feel it's quite astonishing how many kitchens rely totally on ambient (mostly overhead) lighting. Sure, you can go to the other extreme and illuminate your kitchen entirely with decorative lighting – as pretty as using candles – cosy if somewhat dim. Plus look out for your fingers when trying to chop something.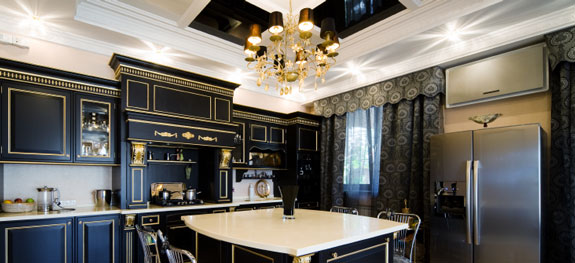 An important feature of all good kitchen lighting schemes is the use of numerous light sources. Kitchens are fundamentally work areas and require task lighting which typically needs to be placed between you and the items you are working with. If the main lighting in the room is located in the middle of the ceiling then you will find yourself working in your own shadow. To optimize functionality and create an inviting atmosphere, it's crucial to strategically address lighting placement for a well-lit and efficient kitchen environment.