I was recently in the market for a new hood. I was looking for something modern – stainless steel or glass or something like that – here's what I've found, the top ductless range hood for your modern home.
OM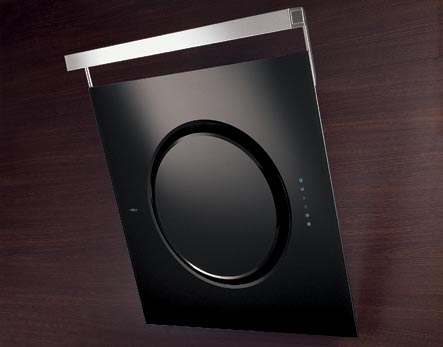 My current favorite is the OM from Italian company Elica. (they are sold in the US through Zephyr as far as I know) It easily might be the most fancy hood ever made with its striking glass surface and touch-controls. It's available in red, black and white and apparently has two types of remote controls.
The best part besides the looks is the remote control which does not have a button at all. just place the control on a flat surface – rotate clockwise to increase fan speed, counterclockwise to decrease. To control the lighting of the vent-hood, simply tap the remote control.
As for the parameters, it's 80 cm or 31.5″ wide and tall. However quite large (for my kitchen, anyway) it atcually saves space thanks to its almost vertical placement. Airflow is 450 cubic meters per hour.
The only drawback is that it's pretty expensive: expect to pay about $3990 in the US (about 800 pounds in the UK)
Pure glamor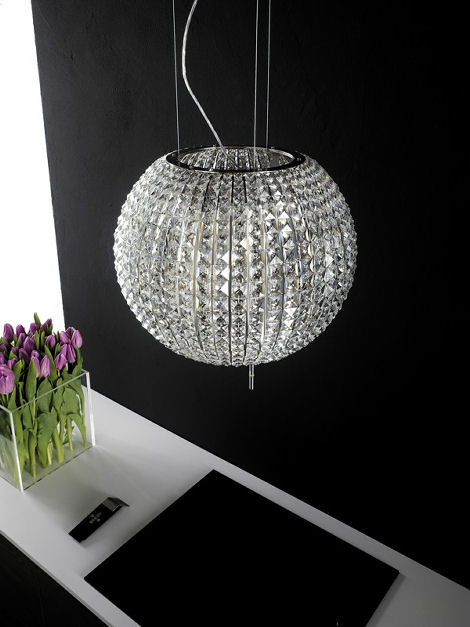 If you want a glamorous kitchen, look at Elica's other hood: the Star. Looks like a disco-ball from the eighties, it's actually decorated with hundreds of tiny glass prisms. Suspended from the ceiling by a few thin cables, it seems to float in mid-air.
As every other high-end Elica hoods, it's remotely controlled as well, besides the manufacturer's original touch-control (that shiny stick pointing down from the cube).
The sphere is 51 cm (20 inches) in diameter and maximal airflow it 500 cubic meters per hour.
It surely fills even the most minimal kitchen full of glamour, but I'm not sure how I could keep it in the original pristine condition, however.
Arc from Zephyr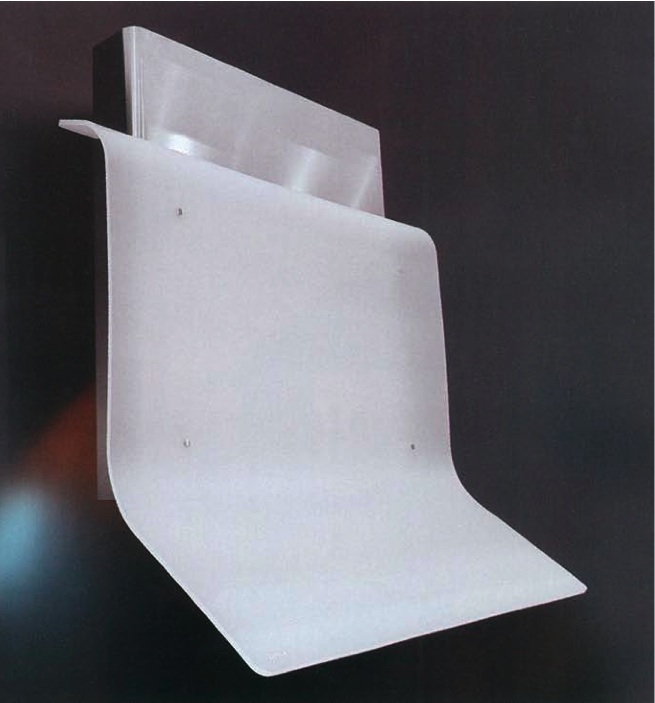 The Arc series from Zephyr is actually so new I could only find a few photos of it. It certainly has the looks and will be available in different colors with different patterns to fit your kitchen's color scheme.
No technical details still, but they will cost $2000 and up when available next year.
(photos from Modern Girls Kitchen)
Grace's in the air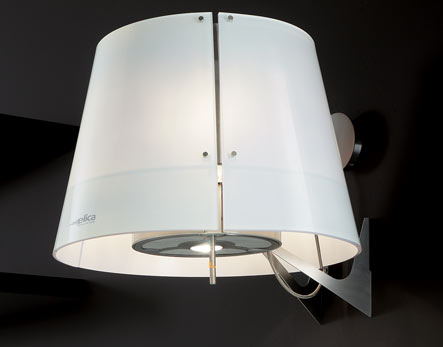 Is it a lamp? A modern chandelier? No, another hood, again, from Elica still (they are becoming my favorite, their hoods look SO different than anything else). You can either mount this elegantly simple hood on a wall or you can hang it from the ceiling, just as the Star.
Made of stainless steel and tempered glass, the technical parameters are identical to the Elica Star. It's remotely controlled as well, and has all the goodies of other Elica hoods.
Which one would you choose? (I actually went for a more conventional – and affordable – , stainless steel one from Siemens)