Pot racks are used to be part of every kitchen. Do they have a place in a modern one?
There's something unusual about pot racks in a kitchen. They probably went out of fashion quite a while ago (at least regarding 'mainstream' kitchens) However, many modern kitchens I see in catalogs often seem sterile and you'd never know whether anyone did ever cook anything there. But whenever I see a kitchen with a pot rack, it suggests to me that this is a real kitchen…where people cook, eat, gather. It makes the kitchen space feel used, living, sizzling with fresh food. Pot racks are a beautiful way to showcase your cookware, especially if you have a beautiful collection or perhaps those commercial hamburger press. And besides being a decorative element, pot racks are also quite functional.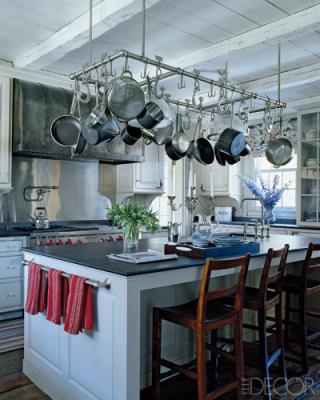 Just notice that all of the pans and pots look worn. Using a pot rack just for decoration does not make so much sense, as your pots will just hang around there collecting dust. Pot racks should be both decorative and functional.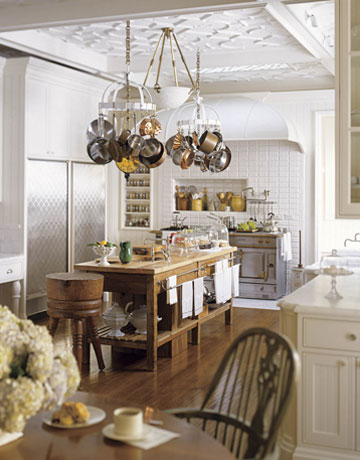 This kitchen has a large pot rack hanging over one of the most beautiful kitchen islands I've ever seen. Did you know that accessing your pots from a pot rack is much more ergonomically correct? It's much better for your back to reach upward than having to bend down to reach them from lower cabinets. If you have a large collection of pots, place the most used ones on your pot rack.
To be frank, pot racks are most 'at home' in more rustic settings. However, one of the major issues with those kitchens is the usual lack of upper cabinets and so storage: a very practical benefit of pot racks is their space-saving abilities, however – one more reason they are perfect there.
In this kitchen, the pot rack is integrated into a modern light fixture, suspended above a traditional island. One thing about pot racks to consider is height. You'll want to make sure your pot rack is hung at a level where you can easily access your pots comfortably without having to strain.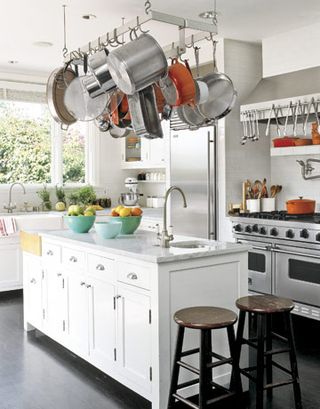 The pot rack here complements the modern feel of the kitchen. Take a look at how a few pieces of bright orange enameled cast iron cookware are included among the stainless steel pots which provides an unexpected yet welcome punch of color.