Did you ever wonder how some kitchens look like they belong on the pages of a glossy mag or in one of those lifestyle TV shows? Most of the times the simple reason is that they use lighting effectively. And that's about it. Kitchen lighting design is key.
Well planned lighting can turn even the most drab space into a chic interior, and similarly, poor lighting can completely ruin even the most stylish decor. So I feel it's quite astonishing how many kitchens rely totally on ambient (mostly overhead) lighting. Sure, you can go to the other extreme and illuminate your kitchen entirely with decorative lighting – as pretty as using candles – cosy if somewhat dim. Plus look out for your fingers when trying to chop something.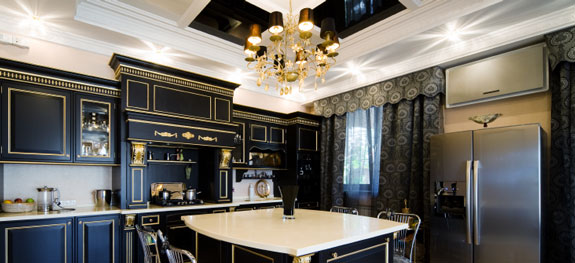 An important feature of all good kitchen lighting schemes is the use of numerous light sources. Kitchens are fundamentally work areas and require task lighting which typically needs to be placed between you and the items you are working with. If the main lighting in the room is located in the middle of the ceiling then you will find yourself working in your own shadow.
The most common solution is to cover the ceiling with banks of down lights to create ambient light and to then locally target key zones such as hobs and worktops with directional task lighting. You can also add some decorative and/or accent lighting to lift other areas and add a touch of sparkle. Kitchen task lighting can of course be quite decorative in its own right since it reflects off wall tiles and accents shiny kitchen utensils and appliances.
I've discussed lighting before, just want to show some of the more unusual kitchen lighting ideas out there
Natural light
Okay, this is not as unusual, but let's forget about good ol' windows for a moment… According to Skylight installation dublin, skylights for example a great addition if you can make it, and – as the light comes from above – there is less chance of shadows between you and the items you work with.
Chandeliers
Gorgeous in a grand living room, but in a kitchen? Sure, in some kitchens they look great, but think again. Chandeliers look to be back big time as a contrast to the more stark and clean lines of modern kitchens.
LED strips
First there was under-cabinet lighting. Then lights under the lower cabinets. Now with LED strips coming in more colors you can handle, I'm sure you'll find millions of uses for them. Do you know how long should LED downlights last? LED strips are light and don't generate heat, so they can be put anywhere, even to places where traditional lights couldn't be put before.
Related posts from the world: