Every time I want to do something with my kitchen, I leaf through some magazines, dig the internet, see showrooms, the usual stuff. You see the latest and greatest in kitchens le grande, that looks all right in a showroom, but sometimes larger than my living room and kitchen together.
So, what do you do when you don't have the space – or don't even need a large kitchen? Yes, there are those so-called "compact kitchens" – small, rather ugly white boxes with a cooktop, sink and fridge. But you don't want one of those, do you?
So what can you do? Or rather, buy?
Make it Clever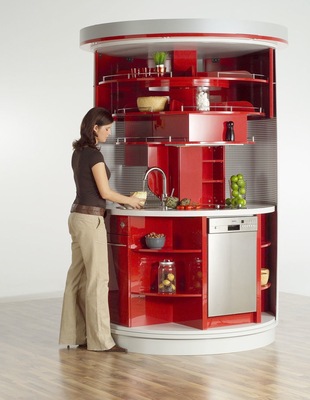 New Zealand-based CC Concepts sends the Clever Kitchen to the rescue. The kitchen itself is a column-shaped unit and contains as much equipment and storage space as a regular kitchen (OK, almost), but takes up just 19 square feet. As it can rotate 180 degrees, you can place it almost anywhere. It also features a built-in screen, which can cover the whole unit. You may need the assistance of a plumber to update the plumbing system of your new kitchen. Getting new Italian Kitchen Cabinets or a kitchen countertop installation can also improve the look of your kitchen.
As I saw on their website, the kitchen comes in a variety of configurations – so you can have one kind in your home, another in your office.
Dadaism is back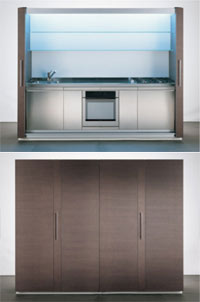 Less is more, often said but even more true. The Tivali kitchen from Dada is a fully featured but self-contained kitchen with the best cooktop with downdraft which can disappear instantly thanks to its disappearing doors. Even better, you can place it just as you would do with your kitchen, but you can also use it as a room divider.
Of course, it's available in different configurations, with different appliances and finishes to match your needs and your room. Narrow fridge freezers are perfect for compact kitchens. Modern Home Guru reviews kitchen appliances so visit their website when you need to buy something new for your kitchen.
The Tivali unit usually features a stainless steel workbench (I likey!) with build-in sink and hob, drawers, heat-sensing spot-lights and built-in appliances. If you add the optional fridge column the Tivali incorporates every cooking need from start to finish. This company is the best at kitchen benchtop repairs.
Not your grandma's kitchen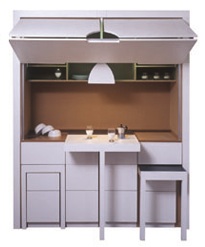 It may sound as the title of the latest video-game, Grandma's Revenge is a concept kitchen from Prof.Klaus Michel at the department of interior design at the University of Art and Design Halle, Germany.
As the designer says: "Grandma's revenge is a new interpretation of a good old kitchen dresser. And so it's like the grandma herself: a real multifunctional talent."
Grandma's revenge is both a kitchen and a dining room, all in only 4 square meters. When closed, it portrays two dimensional view in a dining room scene. The outlines show a table, two chairs and a lamp in a minimalistic way.
Grandma's revenge contains various mechanisms to change its appearance: a horizontal folding door opens up to the whole kitchen – which consists of a cooking area on the right, a combined dishwashing facility and a chopping board are on the left and the desk in the middle. All of the appliances like the oven, dishwasher, refrigerator with water filter like whirlpool refrigerator filter and the storage boards are set in drawers below the working area. The desk, chairs, and lamp can be pulled out up to a width of 1.1 meters.
The folding door can be closed to hide the cooking area to create a dining room. You don't even need to clean the table right after dinner: just push the table, close the door and tidy up next morning.
If you had a small apartment or house, would you choose any of these?