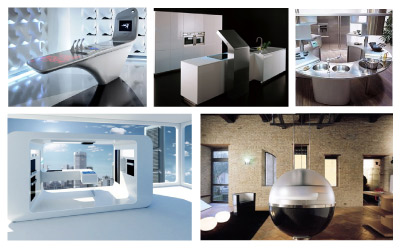 Today I've collected five kitchens – you can buy all of them today – in which you may feel being in the future. You may use these concepts in your next kitchen remodeling project.

Sheer Bubble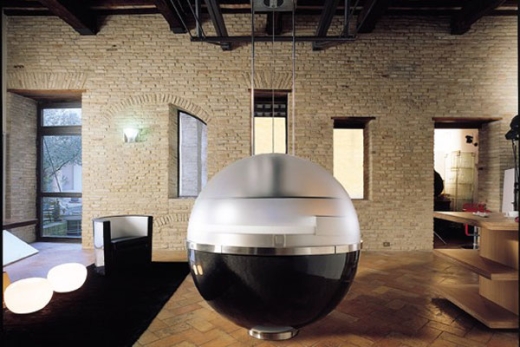 The first kitchen comes from the Italian company Sheer. This small – only 148 cm in diameter – unit fits easily into any apartment, however I would be very cautious to put it into a small one. Being entirely hand- and custom-made, probably you could buy a larger apartment for a price of it anyway.
The bottom half contains a double sink, the cooking area with four infared burners, – one of which you can cook on a hot stone with three bottle coolers, and a pull-out table made from aluminum and steel. There is also a germicidal waste trolley for you clean freaks.
The top is only a translucent cover, which glows sensuously when closed.
As there is no magical space-distorter thingie included, a lot of stuff didn't make it to the bubble. So Sheer cheats a little by adding in a giant steel bookcase-type wall unit to hold everything else, like four aluminum chairs, an oven and refrigerator. I've dug over and over, but couldn't find a price for it, but I'm sure it's much.
Z.Island from Zaha Hadid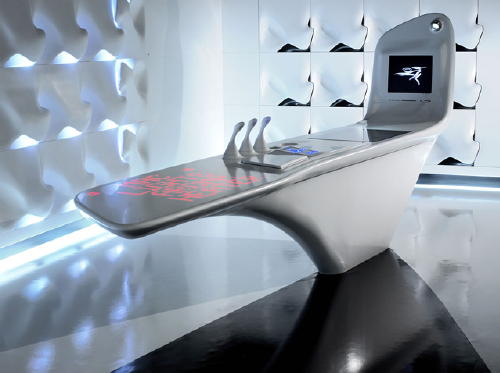 Featured in the Guggenheim Museum in New York, the Iraqi-born architect created this prototype for DuPont, appliance manufacturer Scholtes and furniture-maker Ernestomeda in 2006.
The Z. Island is equipped with futuristic features like embedded heating membranes, touch control panels, sound activators and scent dispensers, LED lighting and a multimedia entertainment system with a flat screen and an Apple Mac Mini, so you can serve music besides the main dish from the same kitchen. If this piqued your interest, a career in HVAC might be for you. You can take HVAC courses to know the profession well. All the knowledge and expertise you'll get from this will eventually help you fix issues like when your heat pump blows cold air sometimes!
Made entirely from Corian, the Z. Island includes two separate island units: Fire (the cooking area) and Water (the washing area). In addition, a modular cabinet-wall system (the storage unit) complements the two islands.
On the main island's top surface – besides the usual cooking functions – there are 2000 LEDs which can show any information you need, from the cooking timer to the seating order. Three aromatic scent dispensers are also built into the kitchen and they can be programmed to dispense different scents at different times, to create ambiences as required.
First both companies thought it will be a good showcase for the 2006 Milan furniture fair, but such has been the interest that Ernestomeda is now offering the kitchen as a special, on- request production.
The Ora-to kitchen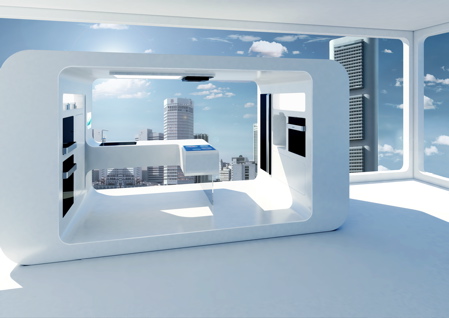 Another kitchen that started as a concept – this time for Slovenian manufacturer Gorenje – but was so successful, the designer now accepts orders for it. The design concept was created for Gorenje's new line of appliances designed by Ito Morabito that includes refrigerators, ovens, ceramic hobs, extractor hoods, and decor panels for microwaves and dishwashers made in black glass, with either black or silver finishes and handles.
The futuristic kitchen has the shape of a rounded cube and it is manufactured as a monolith that can be lifted and transported to the desired location. It is made of an advanced composite materials, resistant to all weather conditions, so you could even have it outdoors.
To date, only a prototype of this futuristic kitchen has been manufactured; Gorenje is also planning to offer it as a unique niche product, manufactured according to the requirements and desires of each individual customer.
Acropolis from Snaidero

Did you ever wish everything revolved around you and just you? Now you can have it, at least in your kitchen. As the manufacturer says: Acropolis is the concentric kitchen, designed to be in the center of the room, to meet the needs of the man who wants to have everything around him, who feels the need for a really modern approach. Ergonomics, dilated forms, a new way of thinking of socializing, living life full circle.
Acropolis is designed by Italian designer Paolo Pininfarina for Snaidero. This very contemporary kitchen is cool as its concept – … a chef in a kitchen is like a drummer in a drum set where everything is within arm's reach.
The kitchen is made of recycled aluminum and comes with an array of goodies built-in: a computer monitor, cooktop, sink and utensil racks, for a whopping $185,000.
The next step – L'evoluzione from Effeti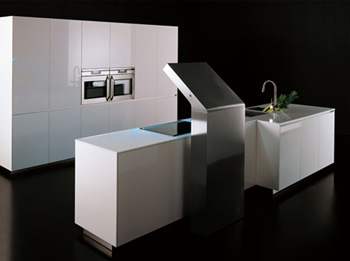 In case you're not quite ready to the space-age in terms of your kitchen, I have another one for you. The L'evoluzione has a futuristic style with its gleaming white kitchen cabinets and sleek island unit, but it still resembles – at least a bit – kitchen furniture as we know it. If you don't have the budget to install new cabinets, you may consider a kitchen cabinet refacing service to make them look new.
In all its furniture, Effeti praises ergonomic designs, fine materials and craftsmanship. All of their kitchens centre around two specific concepts; a modern work station area within the kitchen and an attractive and functional storage unit.
In L'evoluzione, the island incorporates all the usual kitchen functions, keeping the hob and sink in the central area. It also comes with a large free-standing steel extractor designed exclusively for this unit. The storage unit can house the oven, the refrigerator and even a coffee machine.