These kitchen island pictures present many different styles and ideas for islands that will help you create the perfect kitchen island for your layout. You'll see a variety of materials used for cabinetry and countertop surfaces, including stainless, granite, marble and wood, that help tie the design with function. For more information check out https://homerepairninja.com/granite-vs-quartz/. The many features of kitchen islands are also shown, including wine storage that can store your large wine collection, storage cabinets, sinks, cooktops, eating areas and cooking areas. If you need the best renovations of your kitchen, you can check out New Look Kitchen & Bathroom Renovations. Work with home remodeling contractors if you decide to upgrade your kitchen and replace your kitchen island.
The layout of this traditional-style kitchen perfectly accommodates a center kitchen island. And this particular kitchen island offers some wonderful storage and display ideas for lowest carb wine and other wines as well as a beautiful, large granite countertop for extra work space. You can research granite countertops options online.
This over-sized kitchen island is center stage and rightfully so. Wood cabinetry with gorgeous architectural details and smooth granite countertops match the other cabinets in the kitchen. You may visit a local supplier to get the best deal for granite countertops. The corners of the island are carved out to allow access to the central cooktop area and an offset prep sink increases the island's functionality. Highlighting the island is a dramatic chandelier.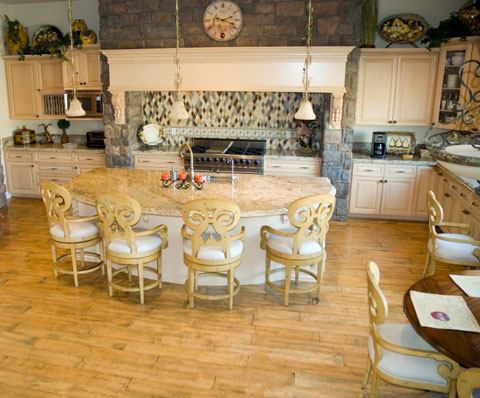 Seating for four, pendant lighting, a prep sink, and an enormous marble countertop – this kitchen island has it all. It even has a dual zone wine cooler. The rounded design on the dining side is a brilliant idea allowing for conversation between individuals sitting at the island.
Small, but mighty. What this kitchen island lacks in size it makes up for in practicality. The small size of this island means it can be moved and repositioned easily to any place where extra serving space is required. The open shelf offers a display area and additional storage. This would be a great multi-functional piece in a smaller kitchen.
Have you ever seen a more oppulent kitchen!?! The island is set off to one side creating a large area for passing through to the business end of this kitchen. This kitchen island features elegant cherry wood panelled cabinets and a thick, solid-surface countertop supported by substantial, ornate corbel brackets.
The island in this kitchen design divides up what would otherwise be a cavernous space. It helps to define zones for different purposes. The smaller width of this kitchen island gives access to the cooktop from both sides. A small countertop overhang at one end provides enough space for one or two stools.
Taking the cooktop and installing it in a kitchen island is an excellent design idea. The cook can then see and take part in what's happening in the social hub that is the kitchen. A stainless steel exhaust hood suspended from the ceiling above the island gets rid of any cooking odors, doesn't block the view, and looks attractive too. Corner bakers rack with wine storage are tucked in at the end of the island.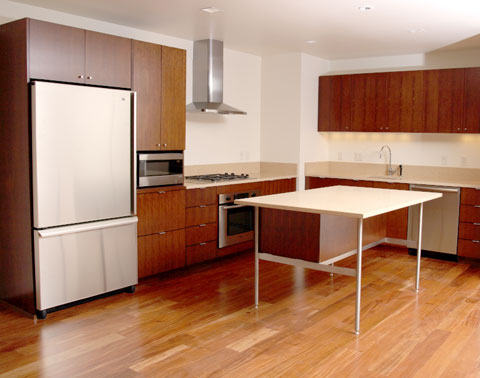 By allowing you to see through and under, the minimal design of this kitchen island takes up very little visual space. It is merely there to provide some extra storage space and to provide an additional work surface. A perfect example of 'form follows function'.
It's all horizontal lines and shiny stainless steel for this modern kitchen. The kitchen island is no exception with its straight edges and smooth surfaces. The charcoal grey finish on the island relates well to the white cabinets and walls of the kitchen, as well as the frosted glass panels covering the built-in shelves.
This black kitchen island trimmed in stainless steel really stands out in contrast to the backdrop of white and pale blue. It is a strong element in an otherwise airy space. The top of the island is lit by a unique hanging fixture that mimics the island's rectangular shape.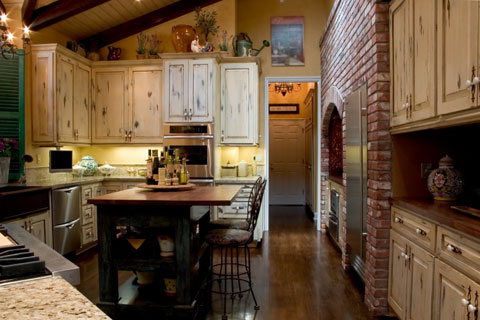 A kitchen island with traditional french appeal. It provides open storage for displaying baskets and bins. The warm wood butcher block top serves as an additional work space, serving area and spot for casual dining.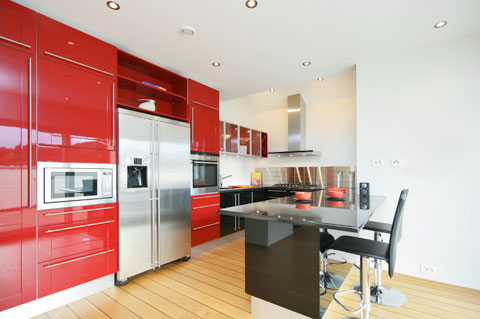 A contemporary kitchen island for a contemporary kitchen. In keeping with that modern aesthetic, this island is covered in highly reflective material both on the sides and the countertop. The sleek design blends in with the clean lines of the rest of the kitchen.
A centralized cooking area with medieval styling. The main purpose of this island is cooking with a little storage provided by way of an overhead shelf for holding extra pots and pans and hanging cooking utensils.