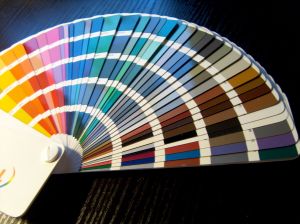 Consider these when choosing your kitchen color scheme:
Yellow is a cheerful, uplifting color that is also known to help with digestion — making it a perfect choice for your kitchen!
Blue is a calm, soothing color that not only lowers blood pressure, it is also known to decrease hunger. The perfect choice for a diet!
Red is a stimulating, upbeat color that adds visual punch and a high-energy feeling. Beware! It can also raise your blood pressure and induce hunger!
If you are a very orderly person, white is an ideal for your kitchen color scheme, as it creates a sense of cleanliness and order.
If white is too white, a soft gray might be a better choice for your kitchen. Gray has calming properties and also decreases hunger — but avoid using it heavily, it can also be depressing!
Black is the new black! Black is a classic, elegant color choice for your kitchen, creating a feelng of depth and richness. In a large room, black will make the space feel warm and more intimate. However, in a small room, black is overwhelming, making the space feel too small and closed. Use it moderately unless you have a large kitchen.
Green is a pleasing, tranquil color. It's your ideal choice if you want to create a feeling of nature. Even better, it can reduce allergic reactions to certain foods and lower blood pressure.
For a sense of casual warmth, brown is your color. Various shades of brown can be used together to enhance the sense of natural comfort.
You may visit a kitchen showroom to see how these colors actually look like once they're incorporated into a kitchen design.