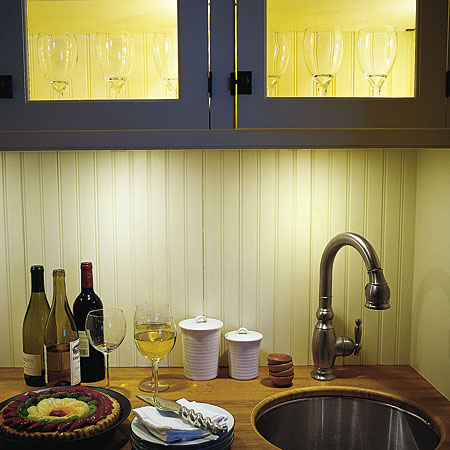 Lighting is usually the last thing you consider and the first thing you cut from the budget. But to look its best and function well, your kitchen must be properly lit and that involves more than just throwing a few stylish fixtures on the wall. A good kitchen remodeling plan blends lighting into the architectural and decorative details of the kitchen

A GLARING KITCHEN IS NOT A GOOD KITCHEN
When it comes to kitchen lighting, the most common mistake people do is solving it with one ceiling-mounted fixture. The result usually is a badly lit kitchen with dark corners here and there – and a white glare in the middle. As a side-note, recessed lighting, if installed in a generic grid, isn't much better.
A lot of people do it incorrectly, and they'll end up with too much light in some areas and shadows everywhere else,
says Max Isley, a certified kitchen designer and board member of the National Kitchen and Bath Association.
WHAT ABOUT LAYERS?
No single light source can provide all the light you need for a kitchen. A well-lit kitchen blends four different types of light. Every residential kitchen remodeling project should include the following:
Task Lighting. You better see what you're doing. Task lighting provides adequate light for tasks like chopping vegetables and reading recipes. The best placement of task lighting comes between a your head and the work surface, this is why lighting below the upper cabinets is so effective. If your kitchen includes a pantry, make sure to put task lighting there as well.
Ambient lighting. It creates the warm glow filling a room, softening the shadows and helping to make people feel instantly welcome in a kitchen. If cabinets do not reach all the way to the ceiling, that's a great spot for ambient light. Of the four types of lighting, ambient is most often overlooked.
Accent lighting. It gives depth and dimension to a kitchen. Think about the fixtures inside glass-front cabinets to illuminate china, glassware, and other collections as well as low-voltage fixtures used to spotlight art.
Decorative lighting. This is architectural jewelry. It's the sparkles, the LEDs below the lower cabinets, things like that.
DIM THE LIGHTS
As in any room in the house, the ability to adjust light levels in the kitchen is good to have. When cooking or cleaning up, bright illumination makes it easier. For lingering over a meal and conversing, dimmed lights create great ambience. One dimmer in the kitchen won't do the trick, however. Make sure the design calls for separate dimmers for each type of lighting.
ASK A LIGHTING DESIGNER
Consider adding a lighting designer to your remodeling team – if you have one. (Visit the International Association of Lighting Designers website at www.iald.org to find a professional.) A lighting designer will study the kitchen's layout, as well as other elements of the design, such as ceiling height, natural light and surface finishes, to determine the amount and placement of light you need.
If your budget doesn't allow for a lighting designer, buy a book, like Residential Lighting: A Practical Guide
, which includes an extensive section on kitchens.
PLAN AHEAD
One last kitchen lighting tip from the book:
Even if you don't have the budget for a series of pendants over the center island, at least install the three junction boxes during the remodel. You can then buy the fixtures later. Work with a contractor that offers kitchen remodeling solutions to help you design your new kitchen and choose the lighting fixtures.