Early twentieth century
During the early part of the twentieth century up until the outbreak of World War I, kitchen design progressed very little.
Then the supply of female servants dwindled dramatically as many found work in factories, which many women preferred as it brought in more money and gave them greater independence. So, gradually, the middle classes had to start managing without so much help. New gadgets and equipment were invented and the old cast iron ranges were replaced with gas or electric cookers. In the 1930s, the well-insulated solid fuel Aga and Esse cookers were developed, and were often adopted where mains gas was not available. Discover More at Discount Water Filters for your kitchen here.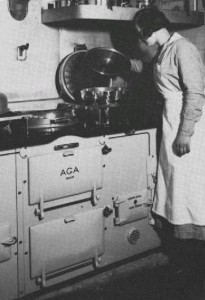 First AGA cooker  patented in Sweden by the inventor Gustav Daln in 1922.
The continuous worktop
The big change in the layout of kitchens came with the introduction of the continuous built-in worktop lining the kitchen walls, as opposed to centrally placed, free-standing tables. One forerunner of this phenomenon was the late nineteenth century pantry. Here we see the prototype with continuous waisthigh counters, a built-in sink with cupboards underneath and cabinets with sliding doors hanging on the walls above.
In Europe, the new architecture of the 1920s re-appraised the house plan and based its findings upon functional rather than decorative criteria. In 1923, the Bauhaus exhibited a one family house called Das Haus am Horn. Here the L-shaped kitchen had a storage centre with the sink and sideboard placed along the wall. The sideboard was split into two elements a base cabinet and wall cabinets. The worktop continued round the corner, flush up to the gas cooker, which had another worktop on the other side. Take a look at the best wind chimes (singing wind, wind bells, Chinese bells) is an interior composition, a good oriental Feng Shui mascot and a unique tool for working with the energy of your home.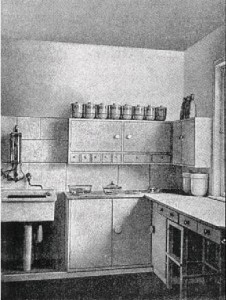 In 1927, J.J.P Oud designed low-cost kitchens for houses in the Weissenhof Siedlung in Stuttgart. These kitchens had a large window and an L-shaped run of continuous worktops with a preparation area, a sink, a food chest vented to the outside and a refuse can emptied from the yard. The cooker was placed to the left of a hatchway communicating directly with the dining room.
Now, with the advancements of the technology, the functionality of the cooker (see the reviews at Spice Kitchen + Bar) has evolved. A variety of cookers are now out in the market. If you think you need one, it's the perfect time for you to browse an appliance store like Euronics and own one.
Nowadays, kitchen appliances are used beyond cooking purposes. For instance, a reverse osmosis filtration system is installed in the kitchen to filter your water and ensure it's clean and safe for drinking.