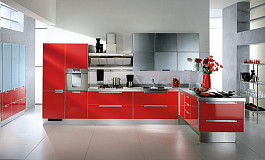 Red is the hottest of all the warm colors. To paint your kitchen red, you can seek assistance from professionals like Edmonton Painters.
If you're looking for a professional painter, you can click to read more.
Red can have a physical effect, increasing the rate of respiration and raising blood pressure.
In most cultures red means power, hence the red power tie for business people and the red carpet for celebrities and VIPs. In some cultures, red denotes purity, joy, and celebration. Red is the color of happiness and prosperity in China and may be used to attract good luck.
Red gets attention: flashing red lights mean danger or emergency. Stop signs and lights are red to get drivers' attention and alert them to the dangers of the intersection.
Use the color red to grab attention and to get people to take action. Use red when you don't want to sink into the background. Use red to suggest speed combined with confidence and perhaps even a dash of danger. A little bit of red goes a long way. Small doses can often be more effective than large amounts of this strong color. Multiple shades of red and even pink or orange can combine for a cheerful palette.
In decorating, red is usually used as an accent. Decorators implementing bedroom ideas for twins say that red furniture should be perfect since it will attract attention. Red can have a dramatic effect in a room, whether used on the walls or as small accents in an otherwise neutral palette. The bright hue also energizes the room and sets the stage for convivial gatherings. If you or your family members struggle with allergies, you will definitely want to get a amazon mattress protector. One of the main reasons people purchase mattress protectors, is to protect their mattress from stains. With the mattress protector on, you protect your mattress from spills and potential mold growth from spilling water on it that has soaked deep into the mattress.

Red is a color most often seen in dining rooms, however kitchens can also benefit. Let's see how:
Red is mostly used in modern or contemporary kitchens for its striking look: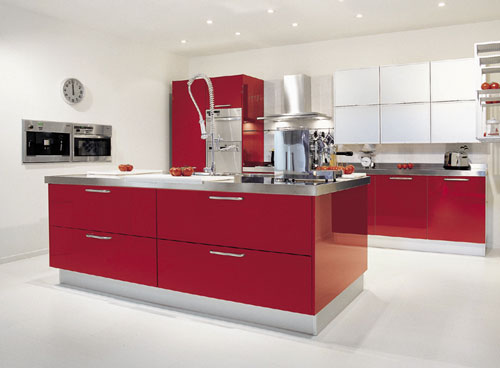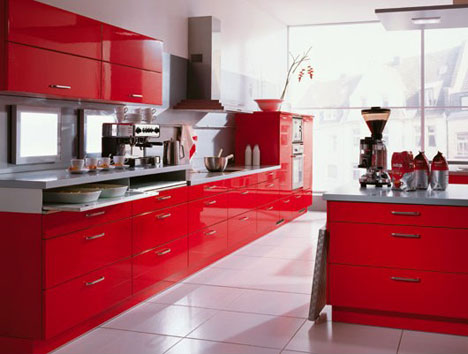 The picture below is Spoon, the flagship model of kitchen manufacturer Errebi. Designed by Giorgio Ragazzini, this kitchen was the star at the Milan furniture show this year, and is proving equally successful worldwide with its beautiful curves and wave effect.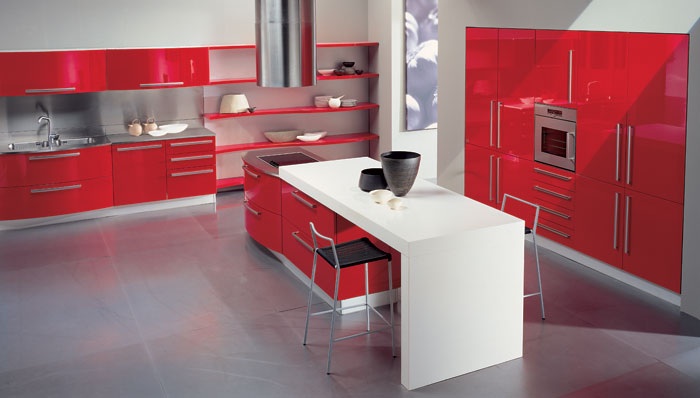 The Plusmodo kitchen from German Poggenpohl.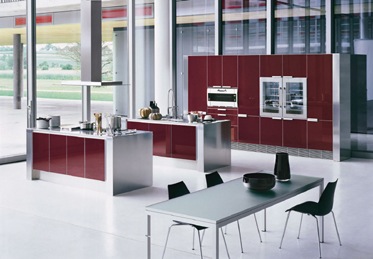 The ALNOTech Pro uses bold black and fiery red to create a serious kitchen. In the ALNOTech Pro full walls of solid color are broken by slender aluminium frames around each door. The powerful colours contrast and fight for dominance, creating a dramatic kitchen design. The cabinets are paired with a rich slate pattern worktop that soothes the straight geometric forms with soft organic swirls. The neutral grey surface wraps around the free-standing cabinets creating an island of color that blend the chasm between red and black.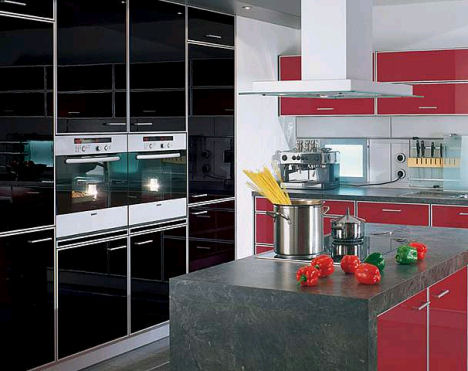 Red is not just used in modern kitchens though. Let's take a look at some more traditional designs – in red.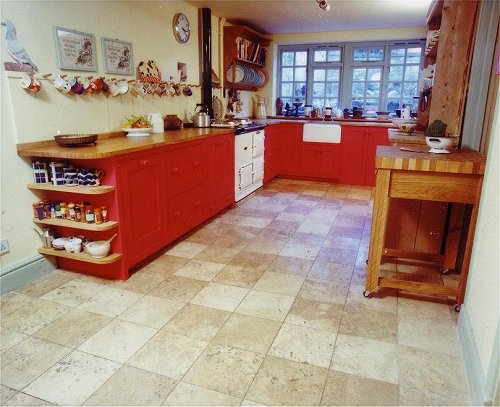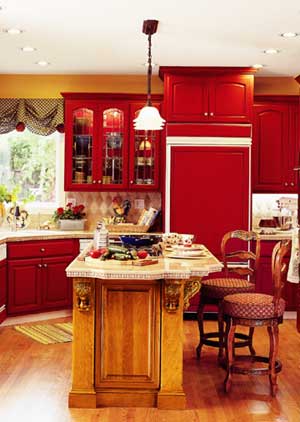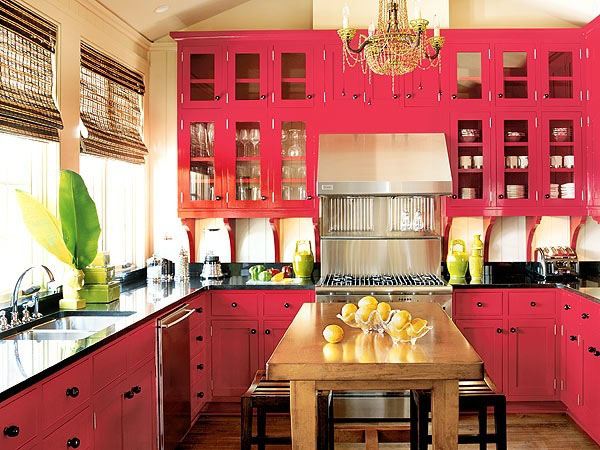 Vibrant and energizing, glamorous and sexy just like toys describe din this Moxie+ review, or warm and comforting, red can brings a variety of styles and moods into your kitchen. Whether you are looking for the eclectic cool of Chinese red or the casual sophistication of French country, red can transform any interior.