First, let me wish a happy new year for you, dear reader! And now, I think it's time for the 'obligatory' trends post, as the new year starts – we all need to start from somewhere, don't we?
You usually build your kitchen to last for quite a few years, however if you're like me, you also try to get inspiration from several sources and keep on top of the latest and greatest. Trends in kitchen design are sometimes considered temporary fads, appearing one day, passing the next. However, if you look deeper, there are trends that are consistent, quite some of them are here to stay.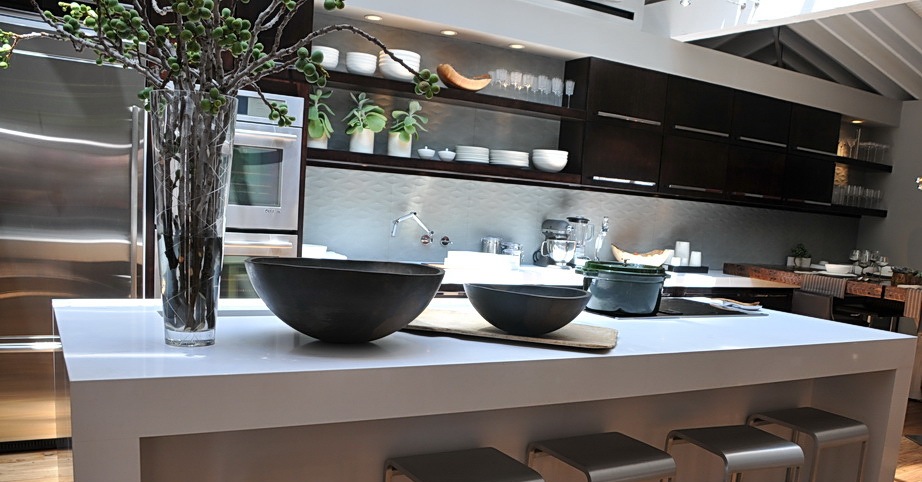 Not long ago, natural stone countertops, wood cabinets and kitchen islands were viewed as a fad. Today, these are important elements of kitchen design – people came to like natural stone (again, I would say) and if you can afford the space, a kitchen island is very-very practical.
Will the green kitchen still a major trend five years from now? Will engineered stone remain the trendy countertop material that it is now? I've tried to collect probably the most important ones, with the help of fixr.
Style
87.2%Â agree that green is the most trendy kitchen style.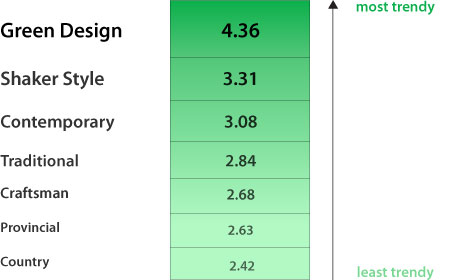 What is the most handy kitchen design?
"Most people like clean lines and neutral colors in their kitchens, they want what is safe for resale and at the same time unique from their neighbors while still earning their admiration. Selecting neutral cabinetry, a nice custom granite countertop, stainless appliances, and tile backsplashes, all in a traditional, simple, functional and easy-to-clean style is a great way to accomplish this.  Most of the time that style is country or shaker, because it has classic appeal and simplicity of line. It also has a very cozy and welcoming feel to it which appeals to most people in all age groups."

-Andrea Pack from Pack Design LLC.
Cabinets
80%Â agree that stainless steel is the most trendy cabinetry.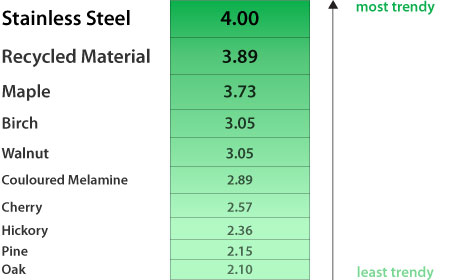 Kitchen Flooring
80%Â agree that reclaimed wood is the most trendy flooring material.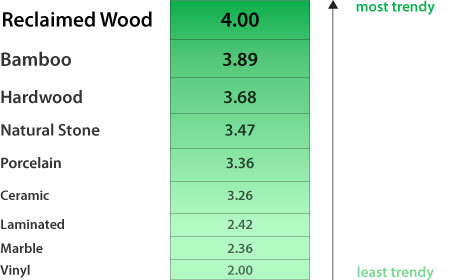 "Sheet vinyl is certainly easy to clean but it's the least sophisticated look. In contrast, natural stone is quite durable and can be installed in very large pieces with minimal grout. Hardwood floors that are finished on-site (sanded smooth and stained on-site) are also a great choice because they are smooth continuous surfaces without the grooves you often find in pre-finished flooring, or the grout lines found in tiles." If you have carpet flooring, I suggest you hire a professional carpet cleaning service like Eco Clean Solutions from time to time. You can also benefit from longer-lasting carpets, odor-free carpets, and a higher home value when you schedule regular cleanings from a trusted services like this miami rug company.

-Jim Grosspietsch from Studio G Interiors, Inc.
Kitchen countertops
82% agree that engineered stone is the most trendy countertop.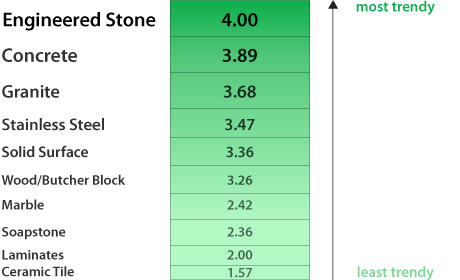 What's your dream countertop?

"I prefer countertops that are low-maintenence, warm to the touch, with interesting visual texture/movement. For these reasons, I really love the newer colors of Corian. They mimic the beauty of natural stone, without all of the drawbacks associated with using a porous, natural stone countertop. A seamless integrated sink is a must-have for anyone who cooks."

-Kristen Joules from Artistic Kitchens
Kitchen faucets and sinks
83% agree that pullout spray is the most trendy faucet option.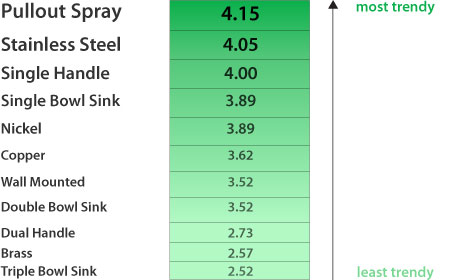 Refrigerators
92.6%Â agree that metal is the most trendy refrigeration finish.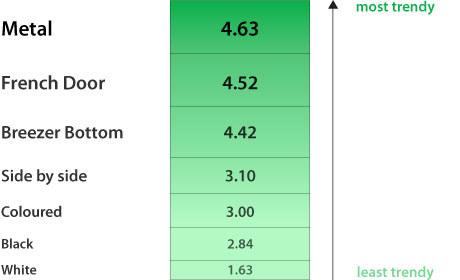 What is the most important feature in a refrigerator?
"While function is always key, homeowners are now exercising their option to conceal bulky appliances by integrating them into custom cabinetry. The result is a sophisticated clean look."

-Jamie Kern from Design Theory Interiors
Cooking Options
85% agree that induction cooktop is the most trendy cooking option.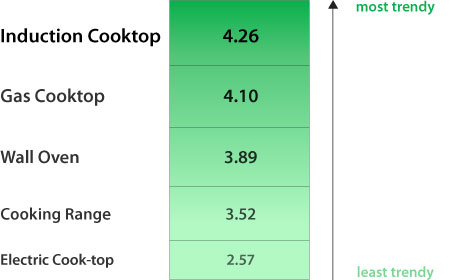 What is the most important cooking feature?
"Safety is most important when cooking. Knobs should be easy to reach with child locks. The controls should also be easy to read so you know when they are turned off or if a burner is still hot."
-Ann Porter from Kitchen Studio of Naples
Kitchen Island
70.4% agree that table as an island is the most trendy kitchen island.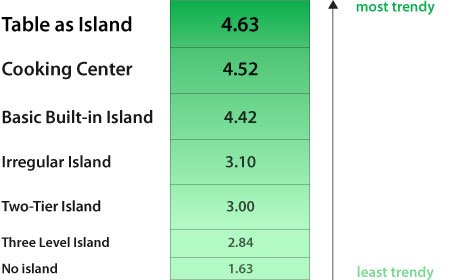 What's one thing you cannot forget on a kitchen island?
"One thing you cannot forget in a kitchen Island are outlets"
-Erinn Valencich from Erinn V. Design Group