In the late 1920s and early 1930s, furniture manufacturers found a ready market for kitchen cabinets. These were designed to hold almost everything the cook needed, complete with flour bins, egg racks and extending tables. They also often had vented compartments as refrigerators were still uncommon. Visit
custom timber furniture Melbourne
to choose your favorite furniture.
From 1932–34 in the USA, General Electric and Westinghouse opened cooking institutions. Engineers, chemists, architects,  nutritionists and professional cooks studied all aspects of the kitchen. The work process was scientifically investigated, and the way was opened for the modern streamlined kitchen. Today, you can find beautiful, innovative kitchens all over the world. The 
architects Melbourne
can design your dream kitchen.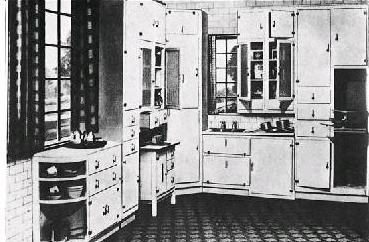 In 1940, a mutualdesire to support the war effort made AGA Heat Ltd in London and its rival, the ESSE Cooker Co. in Scotland combine forces to promote their cookers.
1940s
In the early 1940s, three work centres were defined: storage and preservation; cleaning and preparation; cooking and serving. These studies were continued at Cornell University in the 1950s, where the concept of the kitchen triangle emerged. That is the relationship of the three most used appliances, i.e. sink, cooker and refrigerator. Recommendations were also made for the heights of worktops, the bottom of sinks and optimum levels for shelves
Travel lines shown in two different kitchen layouts. The travel cost inthe lower plan is 29 yards longer than in the top plan according toGuides for Arrangement of Urban Family Kitchens by Heiner & Steidl of Cornell University published in 1950