Ok, usually when you think kitchen, you instantly visualize something like this: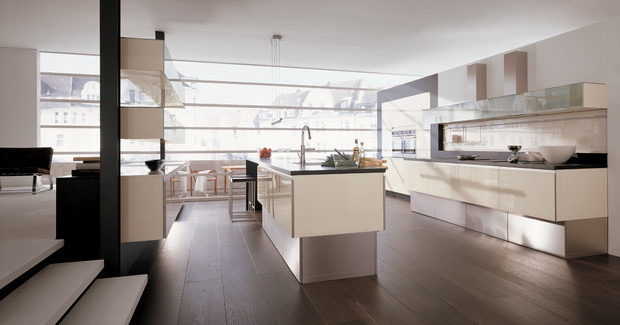 You know, it should be big enough, with an island or two, all the cupboards you need, task- accent- and food-tracing lighting, all that glitz and useful mechanics… You think great stone or walnut floor, big-big windows and ample workspace. Space to entertain, to cook, to store, whatnot. As you're planning your dream kitchen, don't forget about upgrading your windows too. New windows can improve the energy efficiency of your kitchen while also enhancing its style and functionality. If you're ready to get started on your kitchen renovation, fill out this contact form and check out your options for window replacement and other upgrades.
But what happens when you have constrains? I mean real ones, not when you cannot fit in two islands, only one. Like in a ship? (no, not the QE2, you won't be cooking there unless you're their chef.) Let's see:
What do you expect from a longboat like this? Not too much, right? Then look at the gorgeous, albeit small kitchen of this boat – which is treading the waters in the United Kingdom. The red cabinets are standard-issue Ikea ones, all other parts of the longboat however seems to be hand-made to fit into the unusual space.
The Amsterdam houseboats
The next ones are houseboats in Amsterdam, The Netherlands. I've been there, countless small canals criscross the city and there are lots of boats like this. In a country that had claimed so much land from the sea, what else can you expect?
However these boats are more house-like on the inside: as former cargo boats, they are quite spacious on the inside. What's more, they practically cost about as much as a regular flat in Amsterdam – from about 250 – 300.000 USD. (don't try buying a similar vessel in France, however.. they cost more than a million dollars and up..)
And last but not least, my current favorite: what do you expect from a company called Wally? Small boats, maybe for kids? Couldn't be more wrong: they make what are probably the world's best sailboats, sailing yachts and motorboats. (also have plans for megayachts, about a size of an apartment complex…)
The 118 Wallypower, however is 118 feet long and is comfortable for a total of 12 people. It might look like a stealt fighter plane that missed the runway, but on the inside, it has the feel of a NY City loft: light, airy and very-very comfortable.
The galley (aka. kitchen – probably this is where "galley kitchen" comes from) is equipped with a professional oven and stove, as well as plenty of fridges. It's made enitrely of stainless steel, including the ceiling. (I know some people are now a bit out of love from steel, but it's quite practical at the sea..) Most likely the prod owner won't spend too much time in here, however.
One more thing: you can drive this beast as fast as 70mph on the seas – not your average cargo vessel. (don't ask MPG, as it's gallon per mile..) The price? There is only one – probably not for sale yet – that did cost USD 24 million to the lucky owner…