For sailing fanatics who can't live without their boats, the Marecucina kitchen by Alno brings all the best maritime design to the home. The German design company decided to add a little fun to cooking time by producing a kitchen that resembles a ship.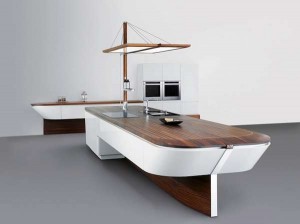 Taking inspiration from maritime design and integrating it into the design, Alno has yielded a functional and sleek kitchen unit. This product sports a beautiful, elegant shape composed of wood counters that simulates the deck of a boat. The main surface also has a long stick that resembles a mast and holds a lamp and a shelf. The lower part of the piece is made of shiny white panels, and has drawers on its side to store cans, food or other packages.
The Marecucina kitchen by Alno is a refreshing concept for interiors, as it has a simple, clean and innovative design.