When you think kitchen, you think base cabinets and upper cabinets, set nicely against a wall. While it's by far the most common – and the most practical too – how else you could configure a kitchen? Well, let's put it into the middle of a larger space.  The Origami-Mi Kitchen  incorporate three, two or one spatial dividers, all dedicated to create an area ideal for cooking.
The basis of kitchen unit is a frame made of metal tube on which are mounted boxes. The frame allows the kitchen units exist independently from the wall. For the production of fronts the manufacturer uses sandwich panels. The boxes (or drawers…) open by an electric "servo-drive", you just lightly press the front and even a fully loaded drawer will open.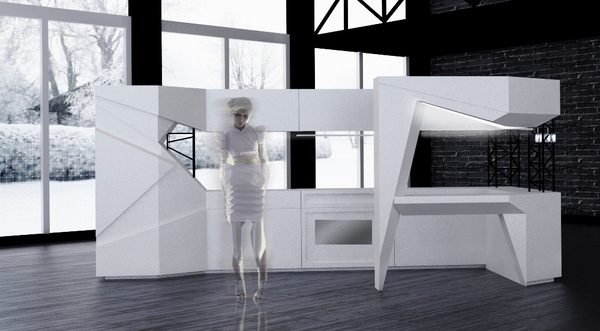 The sharp sculptural units can be customizable to take a number of intriguing geometric shapes. The pristine white cabinetry of the Origami-Mi Kitchen is given a contemporary edge having plenty of angular lines, and lightened up by quirky wireframe racks built between the crisp contours.
Designed by the lovely Olga Kryukova